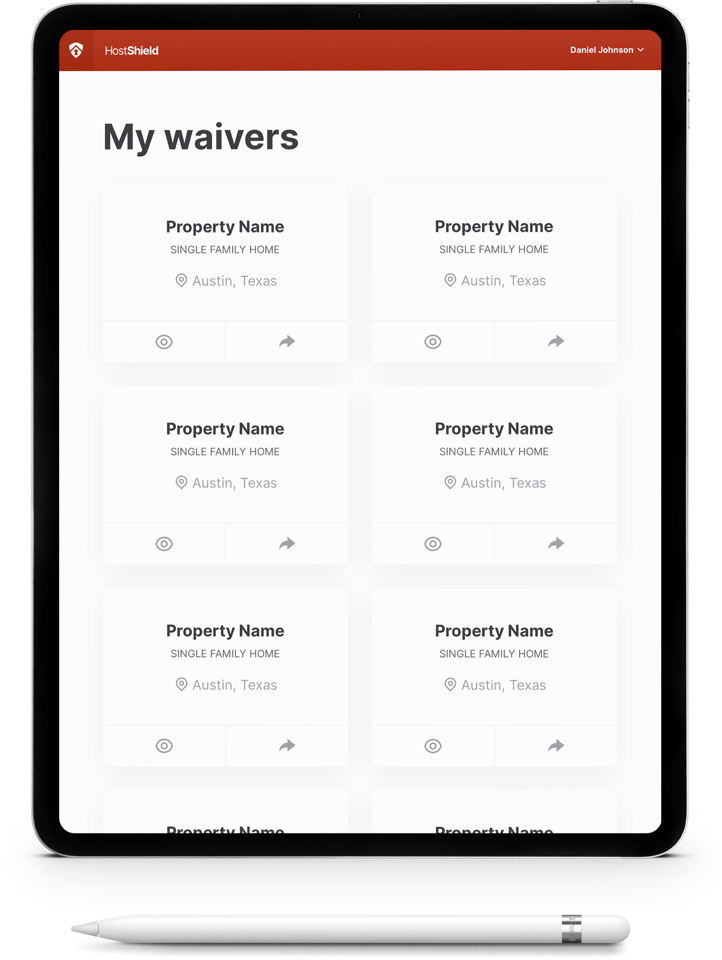 About us
HostShield helps protect your business and your rental properties.
The founders of HostShield include attorneys who have extensive experience litigating complex issues involving liability waivers, and they run short term rental businesses of their own. We understand the risks associated with operating a rental business and how vital proper liability protection is. We designed a platform to create, store, and organize liability waivers for our own rentals and want to share it with you.
Most short-term rental owners do not realize how vulnerable their business potentially is to liability. Without the right legal protection, a rental property could be seized through a successful lawsuit against you or your rental business. There are few law firms who specialize in short-term rental laws and those that do are very expensive. It is our mission at HostShield to limit the exposure of short-term rental owners through streamlined and affordable liability protection.
Not All Liability Waivers are Created Equally
Through our founder's experience litigating and in many cases defeating flimsy liability waivers, we discovered the key difference a well-designed and custom-tailored liability waiver can make. Most successful companies are protected from liability – now your company can be protected too.
Services
How HostShield can protect your rental business.
Every short-term rental host is running a small business. Platforms like Airbnb and VRBO have made it simple to start a rental business but many hosts do not realize a significant amount of risk comes with operating a rental business. These rental platforms fail to provide hosts with the right guidance to ensure hosts are protected under the law.
Fill
Questionnaire
Custom Tailored
Waiver Created
Send Link to Your Guests
Relax!
You are protected!
Fill
Questionnaire
Cutom Tailored
Waiver Created
Relax!
You are Protected!
Send Link to Your Guests
Traditional Attorney
---
HostShield
---
Streamlined and Efficient
Pricing
Easy to Setup.
Easy to Manage.
Hostshield With Waiver Defense
$39.99
/ month per property
Free Trial with Coupon Code 24HOURS
Custom Liability Waiver Tailored to the Specifics of your Properties
Easily Send Link to Waiver to Your Guests
Signed Waivers are Stored on the HostShield Platform
Backed by HostShield Waiver Defense Guarantee
Unlimited Phone and Email Support
Receive Host Tips Newsletter
3+ Properties Receive 10% off
10+ Properties Receive 15% off
20+ Properties Receive 25% off
START FREE TRIAL
Structure Your Rental Properties in an LLC or Similar Entity
Coming soon
Contact Us
How HostShield can protect your rental business.
With Hostshield you are backed by the strongest layers of legal protection available so you can run your rental business with peace of mind.
Need something else? Send us a brief description below and a representative will contact you. If there's a way to improve the efficiency of your rental business HostShield will help you find it.